What does my child need to bring each day?
A named water bottle
Lunch (if they're staying for lunch club). Please remember to cut small fruit such as grapes and tomatoes in half to prevent choking.
A change of clothes including spare nappies and pull-ups if needed.
Please bring back your library book when you are ready for a new one. We will help your child choose a new one during session.
Clothing and Footwear
Please remember to send in spare clothing for your children, as they often get wet when playing with water, from going outside or from the occasional accident.
Part of the children's experience at Pre-School is learning to put on coats and shoes by themselves, we would therefore appreciate it if you could check whether the shoes they are wearing are ones that slip on easily, so that children can put them on by themselves (or try to), even if they need further help with doing them up.
Order your name tags


Go to My Nametags to order nametags, and help us raise funds
Play can be a messy business!
T-Shirts and Sweaters from MyClothing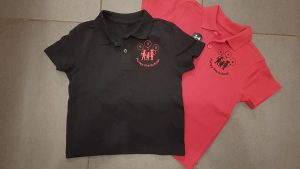 As your children are busily learning new skills, creating masterpieces and developing friendships at Purley Pre School they have little regard for the state of their clothing and quite rightly so!
To save "best" clothes from becoming ruined, we strongly recommend you dress your children appropriately so they can fully immerse themselves in messy play activities such as digging in dirt and sand, making mud pies, painting, gluing and exploring gloop.
We ask that you dress your child in old clothes – suitable for the outdoors and to provide a spare change of clothes. You can also purchase a Purley Pre School Polo shirt or sweater here:  https://myclothing.com/
Allergens and Intolerances
We are now required by law to inform parents/carers of the allergens contained in the food we give the children at snack time and which are used as part of our activities. All keypersons are up to date with this change, so, if you require, please speak to your child's keyperson about your child's dietary needs and to find out about any allergens contained in the food we serve.
Closure of Pre-School due to Snow or other event
It used to be just snow that would cause us to close…….
In cases of snow, the decision whether to close, will be taken by the Manager and Deputy by 8.00am
In the case of closure a notice to that effect will be put on the Pre-School  Facebook.
Local Berkshire radio read out regular lists of school closures and list them on their website.
All parents will be contacted by text message. Please ensure we have up to date contact details.
For any other closure, we will endeavour to give you as much notice as possible.  We will always update you through text, social media and email.
The school will remain contactable on the usual number 07504 831149 and through email to supervisor@purleypreschool.co.uk.